Track conversion from your media impression to in-store purchase
The Problem We Solve
There is a blind spot in media...
D2C: est 5% of sales
Great to drive to brand's Shopify
Full campaign performance tracking and ROI
In-Store: est 95% of sales
Cannot retarget

No insights or data

Missing incentive for consumer action

Lack ability to track performance
SOLUTION:
Make your media work harder with GreenJinn Treasure™
Strong and measurable call-to-action to drive in-store Activation and Actionable insights.
How Do We Solve It?
Measure and increase engagement and conversion on both online and offline media.
Benefits of Treasure™
Increase engagement on media

Understand which media formats delivers sales

Detailed real-time insights

Ability to retarget
What Insights Do You Get?
Understand Your Consumer Quickly
Who is buying your product and where are they picking it up? See demographic and redemption data in real time with our dashboard.
Shopper, Retailer & Category Data
Build an understanding of the shopper profile, how they vary by retailer and your performance in your category.
Retargeting to build loyalty
We help brands build meaningful loyalty with consumers by retargeting with shallower discounts, NPD or retailer launches.
Trusted by these brands and many more...
How Does It Work For Our Consumers?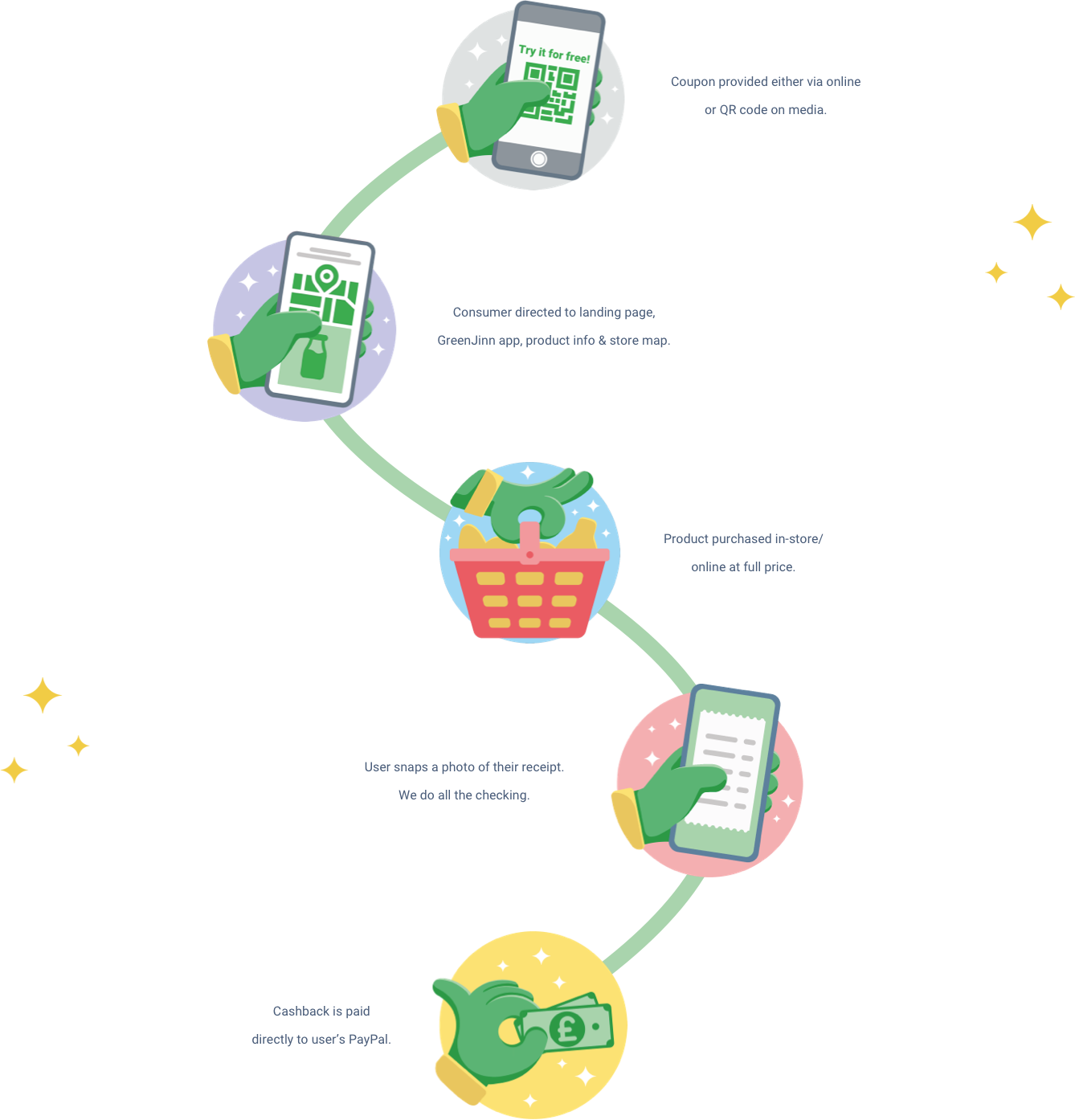 Coupons provided either via online or QR code on media.
Consumer directed to landing pages or the GreenJinn app, product info & store map.
Product purchased in-store/ online at full price.
User snaps a photo of their receipt. We do all the checking.
Cashback is paid directly to user's PayPal.
Where Does It Work?
Simply insert a tangible call-to-action (link or QR code) in your media with an in-store coupon and it's good to go!
Want to work with us?
We want to work with brands that fit our values and what our users are looking for. If your brand fit one of these (or more), we would love to talk to you!
Chat with our brand partnerships team today!
Don't Just Listen To Us…
Hear what some of our favourite brands have to say about us!
Charlotte Parke – Carte Noire
"We were excited to see heightened levels of engagement on our social media advertising campaign, which worked brilliantly to create top of mind awareness from the moment the consumer entered the store. We were also able to re-engage with former consumers, retarget acquired customers as well as track our conversion funnel, which helped measure and increase the effectiveness of our budget."
Alena Linhartová – ABInBev
"Introducing new products, like Babe, to consumers has been particularly challenging, especially over the past year. Finding innovative ways to allow consumer to sample our canned wine has been critical in our journey. GreenJinn Treasure is proven very effective for driving trial of a new product in an emerging category in a contactless and user-friendly way. We are already working on ideas where we can incorporate this tool in other marketing activities we have planned for Babe."